Profile

marigold_cadence's Journal
Free Account
Created on 2011-05-13 04:43:30 (#889169), last updated 2011-05-25 (330 weeks ago)
0 comments received, 0 comments posted
4 Journal Entries, 0 Tags, 0 Memories, 2 Icons

About
| | |
| --- | --- |
| Name: | Marigold Cadence Larkinciel |
| Birthdate: | Mar 23 |
| | |
| Website: | AnkhScarab |

Mini Bio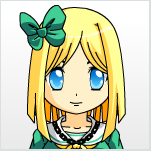 "A person's a person, no matter how small."
I'm Marigold. I'm 6 years old. I live with my Vati and Vati's boyfriend, Apollo, my uncle Kristoph, and the two kids Vati and Apollo are adopting, so I have a big sister named Kalli and a big brother named Nico. :) I also have lots of grandparents now... I have Nana Xanthene, Grampa Flavian, Grandma Gramarye, Grammy and Grampy Justice. :)
I like to color and dance and sing and one of Vati's friends Daryan is teaching me how to play guitar.
I also like the colors green and yellow. I like dolls and teddy bears and Toy Story and princesses. :)
self-portrait made using
gen8's Anime Face Maker 2
, quote from Horton Hears A Who by Dr. Seuss.

Connect

People
[View Entries]
amber_rose
,
ankh_scarab
,
apollyjustice
,
harmony_ohana
,
hisprincessdoll
,
illusoryarikado
,
isjusticelaw
,
onceburned_twiceshy
,
our_only_try
,
perfectlogic1992
,
theseoldwings

Communities
[View entries]

Member Of (1):

Subscriptions (3):

Administrator Of (1):

Feeds
[View Entries]

Subscriptions (0)

Linking
To link to this user, copy this code:
On Dreamwidth:
Elsewhere: